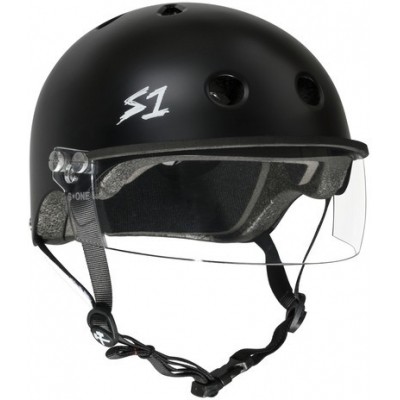 The trusted S1 Lifer helmet with visor
---
---
Description
The S1 Lifer Helmet is one of the best fitting and safest helmets for Skateboarding, Longboarding, BMX and Roller Derby. The Lifer Helmet is a Certified "multi-impact" helmet ànd high impact helmet.
The Lifer helmet is a break through design combining the added safety of a CPSC and ASTM certified helmet with a high level of comfort. The S1 Lifer Helmet is the best fitting High impact and Multiple Impact helmet on the market. This Helmet uses a specially formulated EPS Fusion Foam which allows it to protect your head from multiple low force impacts as well as high impacts.
This version comes with a detachable visor!


S1 Lifer Helmet w/ Visor Specifications
Helmet Certifications:
• ASTM 1492 Certified for Multiple Low Force Impacts
• CPSC 1203 Certified for Single High Impacts
• EN 1078 Certified (European Impact Certification)
Visor Specifications:
• High Impact Polycarbonate to Prevent Shattering on Impact
• Optically Correct Lens
• Anti-Fog Coating on inside of Visor to help prevent fogging
• Anti-Scratch Coating on the Outside of the Visor to help prevent minor scratches and nicks
• Patented "Cover Catcher" to allow for Multiple Helmet Covers to be worn with easy on off
• In Mold Mounting Hardware so that the Visor can be Removed and Replaced if Needed
Please state which size you want in the comments when ordering.
Specifications
Product number

-

EAN number

-

Stock

-