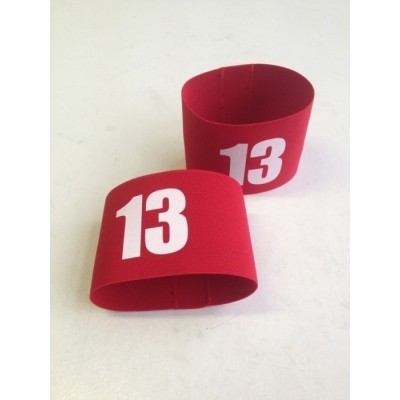 ---
Description
Armbands made of thick elastic band in different colours. They hardly stretch over time, will last you long and are custom made for you.
Order your armbands here in the webshop and email your details (your size, number and colour) to thederbyshop@gmail.com.
Shipping is included in the price (always choose 'pick up in shop' at the checkout), and this is a special offer item.
This item will always be custom made for you, in your size and with your number on it :) That's also why it's not 'in stock'.
size chart:
XXS = 23cm
XS = 26cm
S = 28cm
M = 30cm
L = 31cm
XL = 32cm
XXL = 33cm
Elastic band colours:
Black, white -> €15,50
Red, beige, light blue, blue, navy blue, apple green, grass green -> €19,50 (email us if you are interested in another color)
Number colours: Black, white, red, blue, orange, green, pink.
Sponsoring discount does not apply.

These armbands are custom made for you by Katoenenzo! http://www.katoenenzo.nl/
Specifications
Product number

-

EAN number

-

Stock

-